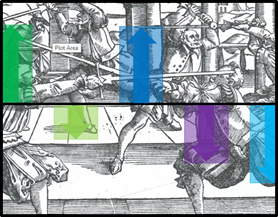 Historical art can be difficult. We understand very quickly that most drawings are not true-to-life, as you find that there seems to be a plethora of historical fencers with impossible joint movement or multiple right hands.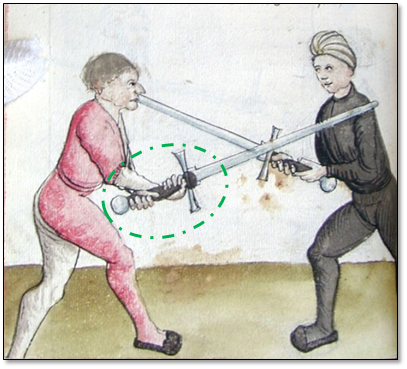 Because of this spending a lot of time gazing into a single drawing can get you into trouble. Taking things too literally is a recipe for disaster. But if you start aggregating many drawings and looking for patterns it can certainly tell you something. 
That something might be that the artist just thought it looked cool that way, so you still have to be careful. Artistic conventions change greatly over time, and these will certainly be systematic features that show up in numerical analysis. Which is just the starting point, from here we must then understand the context of why the trends we are observing show up.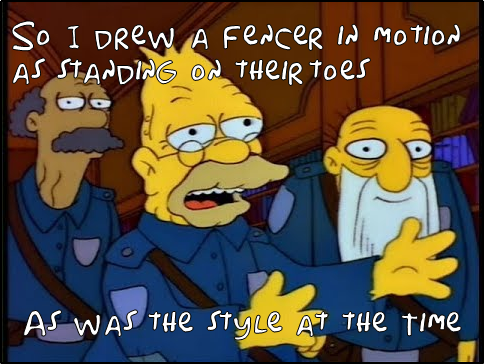 But Sword STEM is only a science blog, I just count numbers.
Data Set
And by 'I just count numbers,' I mean that I steal them. The following data was compiled by Keith Cotter-Rilley of the Atlanta Freifechter Guild. I appreciate that he took the time to investigate, and allowed me to run with these numbers.
This data classifies the Meyer longsword plates (from The Art of Combat, 1570) by their hand positions on the sword. Specifically in the context of the action being described. 
| | | |
| --- | --- | --- |
|   | Narrow Grip | Pommel Grip |
| Vom Tag | 11 | 1 |
| Non Tag-Guard | 5 | 11 |
| Basic Cut | 20 | 2 |
| Handwork | 3 | 13 |
| Meisterhau | 1 | 11 |
And because we all want to look at a pretty picture: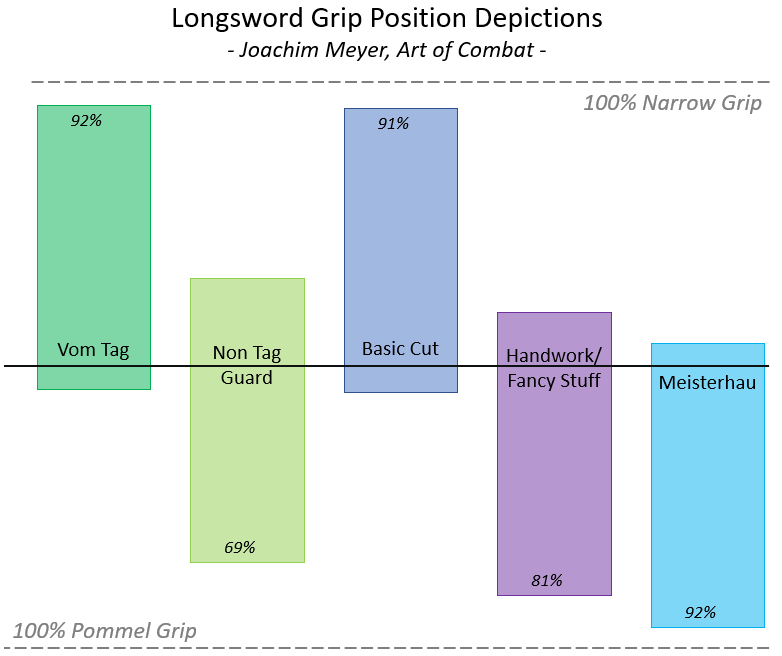 Conclusion
What can we draw from this? The main takeaways I'm getting are:
When doing a basic true edge cut through Longpoint, or preparing to do so in Vom Tag, the illustrations overwhelmingly depict not gripping the pommel.

Other guards are all over the place, but tend more towards grabbing the pommel.

Doing fancier stuff with the sword overwhelmingly depicts gripping the pommel.
What do you make of it? Well, that is a very good question, which mainly leads to more questions.
Which of the illustrations depict earnest strikes intended to debilitate vs techniques used in friendly and controlled competition?

Are the woodcuts typical depictions of how the techniques were performed, or just the person who happened to be modeling it at the time?

Are the woodcuts accurate descriptions of how the techniques were performed at all, or just subject to the artists whims?
Since I don't have an objective way to answer these questions, I think I'm done here for now. Once again I would like to thank Keith, and I've asked him for any concluding remarks he would like to add:
"I'm perfectly happy with how it is now. I've nothing really to add as your conclusions are essentially mine also."
I can't confirm or deny that he actually meant for me to just not include anything from him.
Stuff for Nerds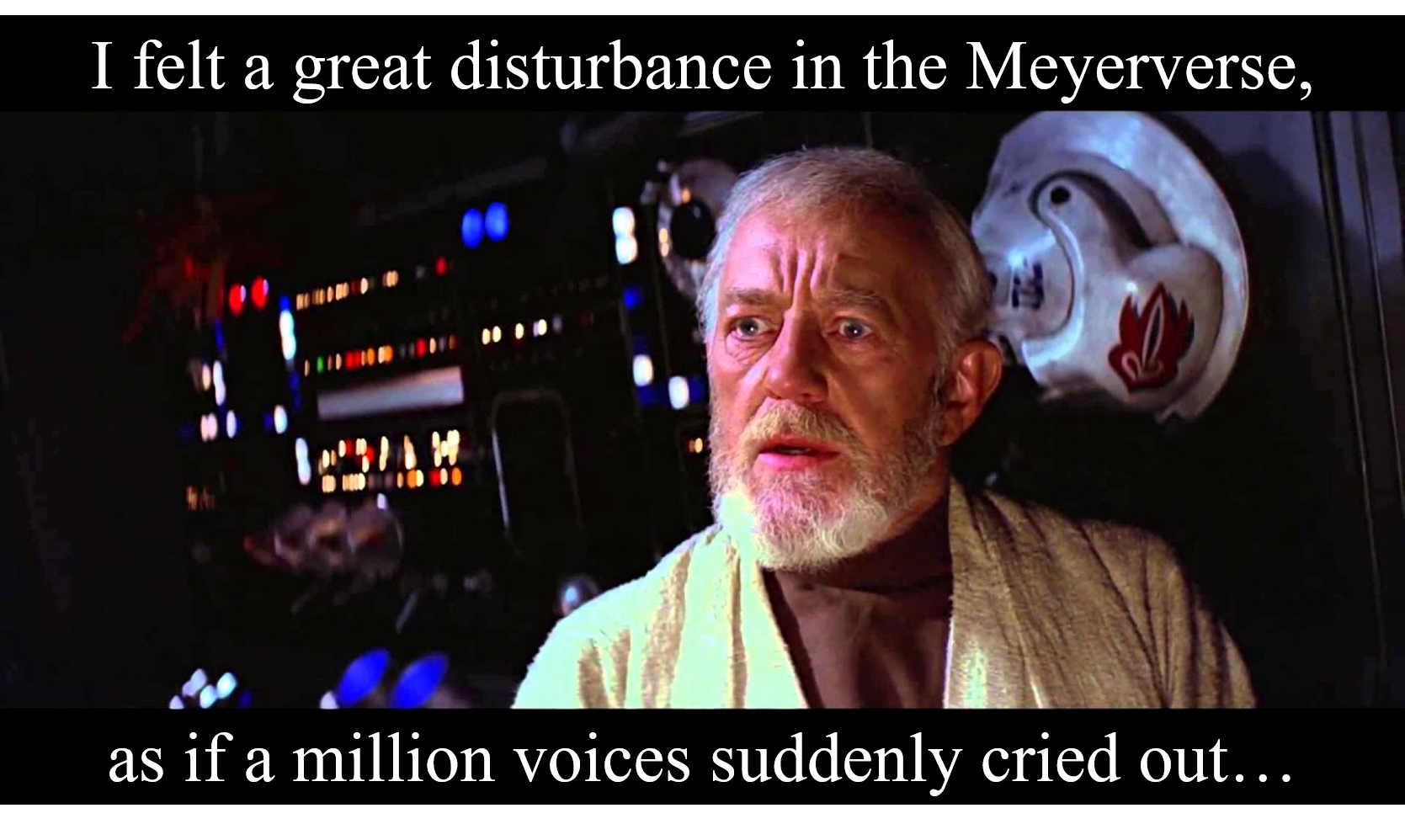 So, you came for the raw numbers? Ask and you shall receive. Bellow I've provided a copy of Keith's labor. Please note that:
Sometimes decisions have to be made about where to classify something, which is up to the discretion of whoever puts the numbers together.

If you don't like it, I encourage you to compile your own.
| | | | | |
| --- | --- | --- | --- | --- |
| Plate | Position in Plate | Hand on Pommel | Hands closer together | Misc |
| A | Center | 2 – One fencer in ochs; One fencer in langort | | |
| B | Center Front | 2 – One fencer in Ochs; One fencer in pflug | | |
| | Center Back | 1 – Fencer doing handtarbeit | 1 – Fencer cutting oberhau | |
| | Left Back | 1 – Fencer throwing Kurtzhau | 1 – Fencer cutting Oberhau | |
| | Right Back | 1 – Fencer doing Handtarbeit | 1 – Fencer cutting Oberhau | |
| C | Center Front | 2 – One fencer in Vom Tag; One fencer in Alber | | |
| | Center Back | | 1 – Fencer doing undetermined move | 1 – Fencer using pommel to throw |
| | Left Back | 1 – Fencer attacking with short edge cut | 1 – Fencer pushing into kron | |
| | Right Back | | 2 – One fencer in Straight Parrying; One Fencer cutting | |
| D | Center Front | 2 – One fencer in Schussel; One fencer in Weschel | | |
| | Center Back | | 2 – One fencer cutting Oberhaur; One fencer cutting zwerchhau | |
| | Left Back | | 1 – One fencer cutting from Vom Tag (or in Vom Tag) | 1 – Doing a throw |
| | Right Back | 1- Fencer doing Krumphau | 1 – Fencer cutting | |
| E | Center Front | 1- Fencer in ochs | 1- Fencer in Zornhut | |
| | Center Back | | 1- Fencer in ochs (?) | 1 – Fencer grabbing opponents hilt |
| | Left Back | | 1 – Fencer cutting oberhau | 1- Fencer half swording |
| | Right Back | | 1- Fencer in ochs (?) | 1- Fencer executing throw using blade |
| F | Center Front | 2- One fencer in Schrankhut; One fencer in Hangeort | | |
| | Center Back | | 2 – One fencer in Kron; One fencer attacking with short edge | |
| | Left Back | 1 – Fencer cutting with schielhau | 1 – Fencer cutting with oberhau | |
| | Right Back | 1 – Fencer jabbing with point | 1 – Fencer in Vom Tag | |
| G | Center Front | 1 – Fencer cutting with schielhau | 1 – Fencer cutting with oberhau | |
| | Center Back | | | |
| | Left Back | 1- Fencer attacking with Prellhau (?) | 1 – Fencer attacking with unterhau | |
| | Right Back | 1- Fencer attacking with Unterhau | 1 – Fencer throwing short edge cut | |
| H | Center Front | 1 – Fencer striking over arms of opponent | 1 – Fencer cutting with oberhau | |
| | Center Back | | | |
| | Left Back | 1 – Fencer cutting zwerchhau | 1 – Fencer cutting with oberhau | |
| | Right Back | | 1 – Fencer cutting with oberhau | 1 – Fencer disarming opponent |
| I | Center Front | 1- Fencer attacking with Prellhau | 1 – Fencer cutting with oberhau | |
| | Center Back | | | |
| | Left Back | 1 – Fencer jabbing with point | 1 – Fencer in Vom Tag | |
| | Right Back | 1 – Fencer cutting zwerchhau | 1 – Fencer in Vom Tag | |
| K | Center Front | 1- Fencer attacking with Prellhau | 1 – Fencer cutting with oberhau | |
| | Center Middle | 1 – Fencer cutting from long distance | 1 – Fencer in Vom Tag | |
| | Center Back | 1 – Fencer doing unterhau to chin | 1 – Fencer in Vom Tag | |
| L | Center Front | 2 – Both fencers throwing Zwerchhau | | |
| | Center Back | 2 – Both fencers throwing Zwerchhau | | |
| | Left Back | 1 – Fencer throwing shortedge cut | 1 – Fencer cutting into Ochs | |
| | Right Back | | 2 – One Fencer cutting oberhau; One Fencer doing Zirkel | |
| M | Center Front | 1 – Fencer throwing zwerch | | 1 – Fencer overgripping sword |
| | Left Middle | | 1 – Fencer retreating from cut | 1 – Fencer overgripping sword |
| | Left Back | | | Fencer disarming opponent |
| | Right Back | 1 – Fencer in Ochs | | Fencer disarming opponent |
| N | Center Front | 1 – Fencer throwing zwerch; Fencer defending with handterbeit | | |
| | Center Back | | | wrestling |
| | Left Back | | 1 – Fencer in Vom Tag | 1 – Fencer half swording and barring opponent |
| | Right Back | 1 – Using the Rose to parry | 1 – Fencer cutting with oberhau | |
| O | Center Front | | 1 – Fencer in Vom Tag | 1 – Controlling with pommel |
| | Left Middle | | 1 – Fencer in Vom Tag | 1 – Striking with Pommel |
| | Left Back | | 1 – Fencer cutting with oberhau | 1 – Parrying with hilt!! |
| | Right Back | | 1 – Fencer cutting with oberhau | 1 – Controlling with pommel |
| | | | | |
| Conclusion | | Mostly for Handterbeit, mastercuts, or guards | Mostly for Vom Tag, or simple cuts | Misc stuff |