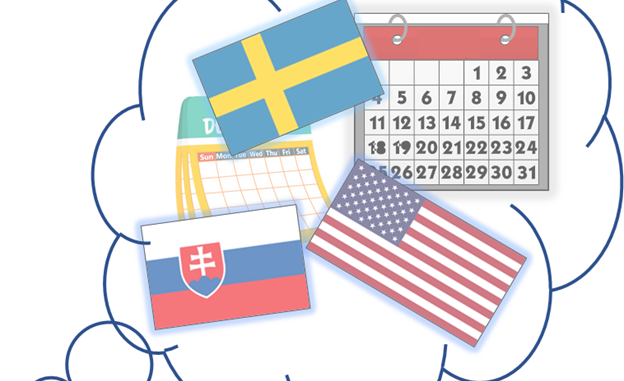 I've always had in my mind that the summer is the busy time for HEMA. Even though we, as a community, run events year round it always felt like there was a tournament "season" centered around the summer. And to my surprise when talking to someone else they mentioned how the summer was a slow patch for tournaments. Something completely contrary to my experience.
And like any good empiricist, I looked for data to confirm either way.
HEMA Season
First question, is there a HEMA tournament season? When facing a question like this I turn to the largest database of HEMA tournaments, HEMA Ratings. And, being the gracious supporters of analytics they are, I was provided a list of all events in their database sorted by date.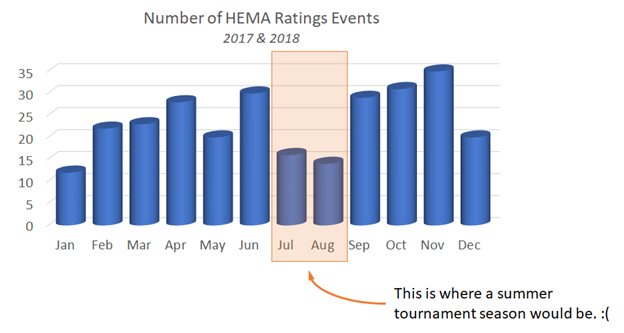 So I was wrong. In summer there's actually a lull in tournaments. If there is any sort of tournament season it would actually be in the fall. 
But wait! Maybe it's a North American thing.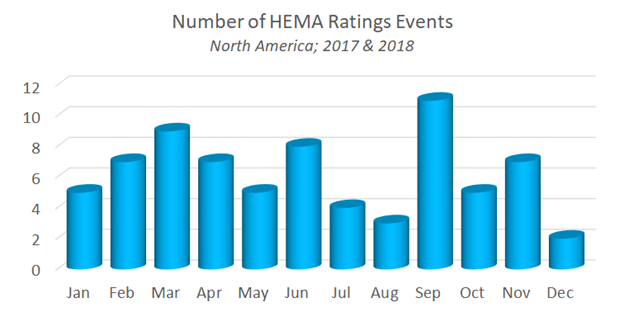 Nope, still wrong. But interestingly enough the October to December stretch is much less busy than it is in the overall world data. 
But while we're here…
Of course once I get my hands on a data set curiosity takes over.
We have a rough idea of when events are being hosted, but where are they being hosted?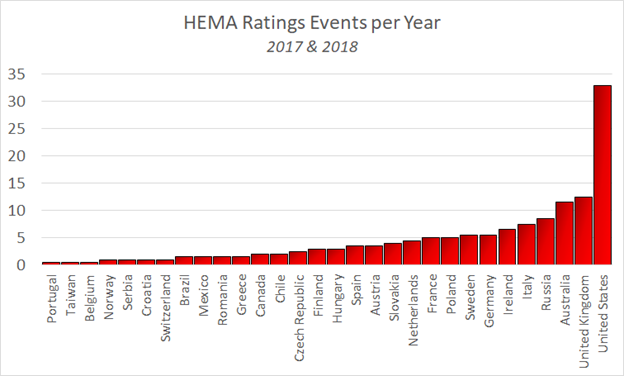 The United States comes out as having by far the most events per year. Over twice that of the next largest! Enough so that let's have another look at that graph, zoomed in a bit so we can see what other countries are doing a bit better.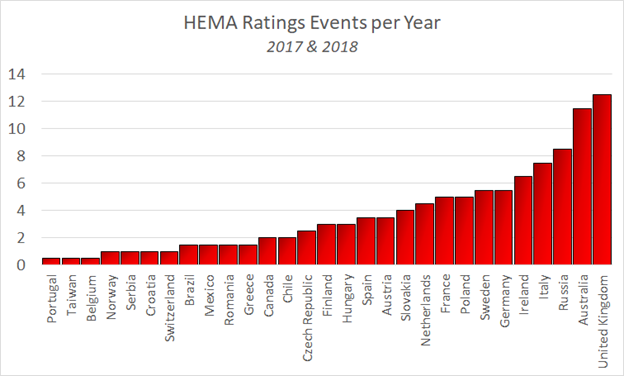 Not all countries are equal
Of course this isn't a completely fair comparison. Though the United States has by far the most competitions going on, it is also a much bigger place than any of the European countries individually. If we now look at the number of HEMA events per population…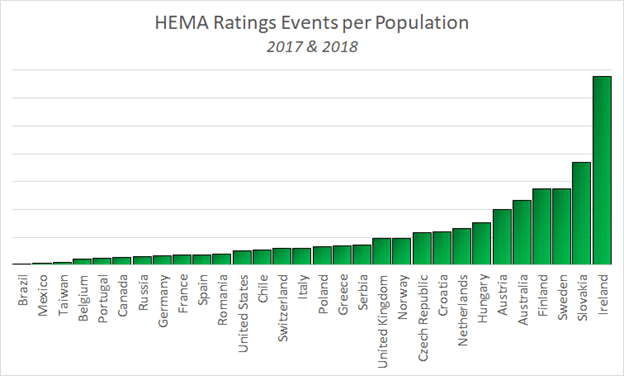 We can see the United States jump right to the lower half of the rankings. Unsurprisingly we can see countries like Slovakia, Sweden, and Finland up near the top. Quite surprisingly we see Ireland dominate. And Brazil, with its 3 recorded HEMA tournaments and massive population, is bringing up the rear.
And one last question, what happens when we look at it by land area? Something all the dwarf sized European countries should enjoy.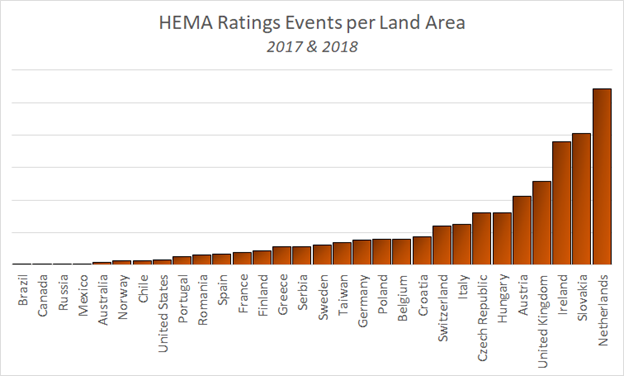 No surprise, the countries that were on top stay on top. I was half expecting Taiwan to win, but it turns out it's actually bigger than I thought. And to my delight Canada isn't last! We just need a HEMA group in a place like Luxembourg or Singapore to organize a single event that will catapult them to the top of these ratings.
Wrapping Up
Naturally this data has a significant bias, in that it only reflects events which have submitted themselves to HEMA ratings. Certain countries have more formal tournaments and more detailed records, and will thus get a larger share of their events captured. Likewise if the competition structure tends towards many smaller events you might not get them captured at all.
Which may be what lead me to my original thoughts about tournament season. It isn't that the summer is significantly busier with formal tournaments, but there are a lot of demonstrations and other activities. Making it a busy time of year for other reasons.
Stuff for Nerds
I chose the period of 2017 & 2018 because if you go too early the HEMA Ratings data on events gets sparser and sparser. And if you go too close to the present you will be missing data for events which have happened but haven't yet been submitted and/or processed. This offers a simple 24 month snapshot, and will be interesting to compare against 2019.
Units for the two un-axied* graphs are Events per Million People and Events per Million Square Km.
*might not be a proper word, but I like the way it sounds.
To get the population and area data I typed it into google and used what it gave me.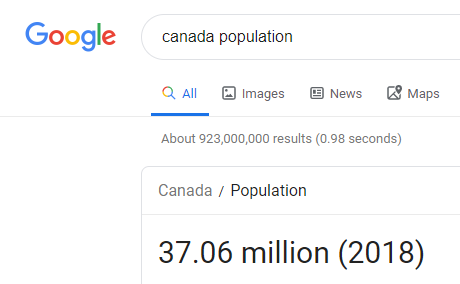 Data I was working with:
| | | | | |
| --- | --- | --- | --- | --- |
| Name | Year | Month | Country | City |
| Capitol Clash: Washington DC HEMA Open 2017 | 2017 | 1 | United States | National Harbor |
| Helsinki Longsword Open 2017 | 2017 | 1 | Finland | Helsinki |
| Siberian Cup 2017  | 2017 | 1 | Russia | Novosibirsk |
| Midwinter Armizare Open | 2017 | 1 | United States | Chicago |
| DEMAS Long Sword Tournament 2017 | 2017 | 1 | United States | Santa Clara |
| Encuentro 2017 | 2017 | 2 | Mexico | Metepec |
| CAMO V | 2017 | 2 | Chile | Santiago |
| Winter's End 2017 | 2017 | 2 | United States | Newberg |
| SoCal Swordfight 2017 | 2017 | 2 | United States | Huntington Beach |
| Blade Master 2017 | 2017 | 2 | Russia | Chelyabinsk |
| Winter En-Guard 2017 | 2017 | 2 | Ireland | Feakle |
| Durchschlag 2017 | 2017 | 2 | Poland | Łódź |
| Fecht TN 2017 | 2017 | 2 | Slovakia | Trencín |
| Swedish Championships (qualifiers) 2017 | 2017 | 2 | Sweden | Gothenburg |
| AIMA Roma 2017 | 2017 | 3 | Italy | Rome |
| Flowerpoint 2017 | 2017 | 3 | United States | Kutztown |
| 3rd Annual Tosetti Institute HEMA Tournament | 2017 | 3 | United States | Redwood City |
| Arnold Fencing Classic 2017 | 2017 | 3 | United States | Columbus |
| V Budapest MHS nylon és feder Kardvívó torna | 2017 | 3 | Hungary | Budapest |
| Cup of Enisey 2017 | 2017 | 3 | Russia | Krasnoyarsk |
| Queen's Gambit 2017 | 2017 | 3 | United States | Charlotte |
| Vasaslaget 2017 | 2017 | 3 | Sweden | Uppsala |
| Purpleheart Open 2017 | 2017 | 3 | United States | Houston |
| Duelling Classic 2017 | 2017 | 3 | Russia | Moscow |
| Montpellier HEMA Tournament 2017 | 2017 | 3 | France | Montpellier |
| Savannah Historic Longsword Open 2017 | 2017 | 4 | United States | Savannah |
| North West Tournament 2017 | 2017 | 4 | Italy | Cortazzone |
| Open Championship of Ural Federal District 2017 | 2017 | 4 | Russia | Chelyabinsk |
| Level One: Military Sabre 2017 | 2017 | 4 | Russia | Saint Petersburg |
| Fecht BA 2017 | 2017 | 4 | Slovakia | Bratislava |
| Scania Open 2017 | 2017 | 4 | Sweden | Malmö |
| Broken Point 2017 | 2017 | 4 | United States | Pittsburgh |
| Big Moscow Tournament 2017 | 2017 | 4 | Russia | Moscow |
| Festival of the Sword '17 | 2017 | 4 | Australia | Melbourne |
| Frühlingsfechten 2017 | 2017 | 4 | Germany | Dortmund |
| Blademasters Cup 2017 | 2017 | 4 | Ireland | Cork |
| Scherma Medievale nella Città Ideale 2017 | 2017 | 4 | Italy | Urbino |
| Study in Steel 2017 | 2017 | 4 | United States | Greenville |
| HEMAY 2017 | 2017 | 4 | Hungary | Győr |
| Fior Di Szatmár 2017 | 2017 | 5 | Romania | Satu Mare |
| Jihlavský HEMA turnaj 2017 | 2017 | 5 | Czech Republic | Jihlava |
| Icebreaker Open 2017 | 2017 | 5 | United States | Minneapolis |
| Rocky Mountain Krieg 2017 | 2017 | 5 | United States | Denver |
| Michigan Medieval Combat Association 10 Year Anniversary Tournament | 2017 | 5 | United States | Livonia |
| Norway Open 2017 | 2017 | 5 | Norway | Oslo |
| Österreichische Meisterschaft 2017 | 2017 | 5 | Austria | Salzburg |
| EHMS salikisa 2017 | 2017 | 5 | Finland | Helsinki |
| Paris HEMA Open 2017 | 2017 | 5 | France | Paris |
| The May Melee 2017 | 2017 | 5 | United Kingdom | Newnham |
| Fechtschule New York 2017 | 2017 | 6 | United States | Margaretville |
| HEMAC HEMAthlon 2017 | 2017 | 6 | Greece | Athens |
| Sweden Open 2017 | 2017 | 6 | Sweden | Kristinehamn |
| Villeneuve Hema Tournament 2017 | 2017 | 6 | France | Villeneuve-Loubet |
| Fecht Yeah 2017 | 2017 | 6 | United States | New York |
| International Lowlands HEMA Gathering 2017 | 2017 | 6 | Netherlands | Amsterdam |
| Red Dragon Tourney 2017 | 2017 | 6 | United Kingdom | Conwy |
| Féile na Gaiscígh 2017 | 2017 | 6 | Ireland | Dublin |
| Swedish Championships (finals) 2017 | 2017 | 7 | Sweden | Borås |
| Longpoint 2017 | 2017 | 7 | United States | Baltimore |
| 400 Years Tournament | 2017 | 7 | Australia | Melbourne |
| Astolat HEMA Open 2017 | 2017 | 7 | United Kingdom | Guildford |
| Sword Fight III | 2017 | 7 | Australia | Burleigh Heads |
| Dutch Lions Cub #2 2017 | 2017 | 7 | Netherlands | Nieuwegein |
| Fairfax Mini Renaissance Faire 2017 | 2017 | 7 | United States | Fairfax |
| Simply Synthetic | 2017 | 8 | Ireland | Feakle |
| Combat Con 2017 | 2017 | 8 | United States | Las Vegas |
| FightCamp 2017 | 2017 | 8 | United Kingdom | Coventry |
| VI Budapest MHS nylon és feder Kardvívó torna | 2017 | 8 | Hungary | Budapest |
| Belfast Bladeworks 2017 | 2017 | 8 | United Kingdom | Belfast |
| Dutch Lions Cup 2017 | 2017 | 8 | Netherlands | Utrecht |
| Battle of the Bridge 2017 | 2017 | 9 | Sweden | Örebro |
| Swordplay Australia 2017 | 2017 | 9 | Australia | Brisbane |
| Krump Pow 3 | 2017 | 9 | United States | Appleton |
| PGF Salut birthday tournament 2017 | 2017 | 9 | Poland | Poznań |
| Wessex League: Bristol Chapter 2017 | 2017 | 9 | United Kingdom | Bristol |
| Torneo di bara 2017 | 2017 | 9 | Austria | Vienna |
| Swiss Gathering 2017 | 2017 | 9 | Switzerland | Schönbühl |
| Sandstorm 2017 | 2017 | 9 | United States | Phoenix |
| World Broadsword Championship 2017 | 2017 | 9 | Australia | Sydney |
| TaurHEMAchia 2017 | 2017 | 9 | Italy | Turin |
| Iron Gate Exhibition 2017 | 2017 | 9 | United States | Danvers |
| W3 2017 | 2017 | 10 | Poland | Warsaw |
| Edgebana 2017 | 2017 | 10 | United Kingdom | Dundee |
| 1º Torneio Regional de Esgrima Histórica Riversouth | 2017 | 10 | Brazil | Curitiba |
| Optimus Bucharest HEMA Open Longsword Tournament 2017 | 2017 | 10 | Romania | Mogosoaia |
| Galway Longsword Open – 26 Commandments 2017 | 2017 | 10 | Ireland | Galway |
| HEFFAC 2017 | 2017 | 10 | Netherlands | Oegstgeest |
| FechtsChile 2017 | 2017 | 10 | Chile | Santiago |
| Tyrnhaw 2017 | 2017 | 10 | Slovakia | Trnava |
| QuadroHEMiA 4 | 2017 | 10 | United Kingdom | Lincoln |
| Ascent Sabre Tournament 2017 | 2017 | 10 | Russia | Saint Petersburg |
| Longpoint South 2017 | 2017 | 10 | United States | Orlando |
| War in the West 2017 | 2017 | 10 | Australia | Perth |
| Salzburger Landesmeisterschaft 2017 | 2017 | 10 | Austria | Salzburg |
| Wessex League: Reading Chapter 2017 | 2017 | 10 | United Kingdom | Reading |
| Swordfish 2017 | 2017 | 11 | Sweden | Gothenburg |
| 4. offenes Fechtturnier in Kassel | 2017 | 11 | Germany | Kassel |
| Tempest Longsword Open Tournament 2017 | 2017 | 11 | Ireland | Feakle |
| SERFO 2017 | 2017 | 11 | United States | Atlanta |
| HEMA tournament Prague | 2017 | 11 | Czech Republic | Prague |
| Rose City Classic: 2017 | 2017 | 11 | United States | Oak Grove |
| Duels at High Noon 2017 | 2017 | 11 | United States | Tucson |
| Johann Georg Pascha Turnier 2017 | 2017 | 11 | Germany | Leipzig |
| Ligowy Turniej Szabli i Rapiera 2017 | 2017 | 11 | Poland | Wieliczka |
| Broadwater Bucklerthon 2017 | 2017 | 11 | United Kingdom | Godalming |
| Blue Box Longsword Open 2017 | 2017 | 11 | United States | Columbus |
| Niederösterreichische Landesmeisterschaft "Langes Schwert" 2017 | 2017 | 11 | Austria | Bad Vöslau |
| I Torneo Vila de Redondela 2017 | 2017 | 11 | Spain | Pontevedra |
| Helsinki Bolognese Open 2017 | 2017 | 11 | Finland | Helsinki |
| Wessex League: Bath Chapter 2017 | 2017 | 11 | United Kingdom | Bath |
| Long Island Point 2017 | 2017 | 12 | United States | New York |
| Tasmanian Swordplay Symposium 2017 | 2017 | 12 | Australia | Hobart |
| Pardubický-meč 2017 | 2017 | 12 | Czech Republic | Pardubice |
| Falcons Cup 2017 | 2017 | 12 | Poland | Oborniki |
| Wessex League: London Chapter 2017 | 2017 | 12 | United Kingdom | London |
| HVN Singlestick Charity Tournament 2017 | 2017 | 12 | Netherlands | Oestgeest |
| The IHA Christmas Cup | 2017 | 12 | United Kingdom | Dundee |
| Brisia 2017 – HEMA Pro Challenge | 2017 | 12 | Italy | Brescia |
| Swordplay Serbia 2017 | 2017 | 12 | Serbia | Belgrade |
| WinterFecht 2017 | 2017 | 12 | Slovakia | Bratislava |
| Clash of Steel 2018 | 2018 | 1 | Taiwan | New Taipei City |
| DC HEMA Open 2018 | 2018 | 1 | United States | Washington |
| The Quickening 2018 | 2018 | 1 | Ireland | Feakle |
| Helsinki Longsword Open 2018 | 2018 | 1 | Finland | Helsinki |
| VII Torneo de Naron 2018 | 2018 | 1 | Spain | Naron |
| Australia Day Tournament 2018 | 2018 | 1 | Australia | Adelaide |
| Silicon Valley Sword Fight 2018 | 2018 | 1 | United States | Santa Clara |
| Blade Master 2018 | 2018 | 2 | Russia | Chelyabinsk |
| Encuentro de Artes Marciales Europeas 2018 | 2018 | 2 | Mexico | Toluca |
| Queen's Gambit 2018 | 2018 | 2 | United States | Charlotte |
| CAMO VI | 2018 | 2 | Chile | Santiago |
| Hema Ianua 2018 | 2018 | 2 | Italy | Genova |
| HEMAtom 2018 | 2018 | 2 | Croatia | Zagreb |
| Féile na Gaiscígh 2018 | 2018 | 2 | Ireland | Dublin |
| SoCal Swordfight 2018 | 2018 | 2 | United States | Huntington Beach |
| Trenciansky Vorschlag 2018 | 2018 | 2 | Slovakia | Trenčín |
| Ram Point 2018 | 2018 | 2 | United States | Richmond |
| QuadroHEMiA 4.5 | 2018 | 2 | United Kingdom | Lincoln |
| VXT 2018 – Clermont-Ferrand | 2018 | 2 | France | Clermont-Ferrand |
| English Sidesword Open 2018 | 2018 | 2 | United Kingdom | Godalming |
| Arnold Fencing Classic 2018 | 2018 | 3 | United States | Columbus |
| Durchschlag 2018 | 2018 | 3 | Poland | Łódź |
| AIMA Roma 2018 | 2018 | 3 | Italy | Rome |
| Axel Pettersson Challenge Tournament 2018 | 2018 | 3 | Australia | Adelaide |
| VII. Budapesti MHS párnázott kard és feder torna | 2018 | 3 | Hungary | Budapest |
| Vasaslaget 2018 | 2018 | 3 | Sweden | Uppsala |
| FlowerPoint 2018 | 2018 | 3 | United States | Kutztown |
| Arizona HEMA League 2018 Event 1 | 2018 | 3 | United States | Phoenix |
| Prima Spada HEMA Rapier Tournament | 2018 | 3 | Australia | Brisbane |
| Schwertkampf 2018 | 2018 | 3 | Mexico | Atizapan de Zaragoza |
| Montpellier Hema Tournament 2018 | 2018 | 3 | France | Montpellier |
| Spring Golden Forests Championship 2018 | 2018 | 3 | Russia | Moscow |
| Spring Open Duel Fencing Championship of the Ural Federal District 2018 | 2018 | 4 | Russia | Chelyabinsk |
| Fiore Open 2018 | 2018 | 4 | Australia | Melbourne |
| 1º Torneio Sul-brasileiro de Artes Marciais Históricas Europeias | 2018 | 4 | Brazil | Curitiba |
| Purpleheart Open 2018 | 2018 | 4 | United States | Houston |
| Swordtrip – the Gathering 2018 | 2018 | 4 | Germany | Munich |
| Torneo Abierto 2018 | 2018 | 4 | Chile | Santiago |
| Bratislavský Fecht 4 | 2018 | 4 | Slovakia | Bratislava |
| Broken Point 2018 | 2018 | 4 | United States | Pittsburgh |
| Study in Steel 2018 | 2018 | 4 | United States | Greenville |
| Frühlingsfechten 2018 | 2018 | 4 | Germany | Dortmund |
| Blademasters Cup 2018 | 2018 | 4 | Ireland | Cork |
| Scherma Medievale nella Città Ideale 2018 | 2018 | 4 | Italy | Urbino |
| Icebreaker Open 2018 | 2018 | 4 | United States | Minneapolis |
| Big Moscow Tournament | 2018 | 4 | Russia | Moscow |
| Fior di Szatmár 2018 | 2018 | 5 | Romania | Ardud |
| Capoferro Open 2018 | 2018 | 5 | Australia | Melbourne |
| Torneo Pontevedra | 2018 | 5 | Spain | Pontevedra |
| Athens HEMA Open 2018 | 2018 | 5 | Greece | Athens |
| Montréal Sword Meisters 2018 | 2018 | 5 | Canada | Montréal |
| Victoria Highland Games Open 2018 | 2018 | 5 | Canada | Victoria |
| Level One Dueling Sabre and Longsword 2018 | 2018 | 5 | Russia | Saint Petersburg |
| The May Melee 2018 | 2018 | 5 | United Kingdom | Newnham |
| ÖFHF Austrian Championships 2018 | 2018 | 5 | Austria | Graz |
| Trofeo ARA 2018 | 2018 | 5 | Italy | Rome |
| OPEN AMHE Toulouse 4 | 2018 | 6 | France | Toulouse |
| Oslo Penguin Cup 2018 | 2018 | 6 | Norway | Oslo |
| Žilinský Kumšt I. | 2018 | 6 | Slovakia | Žilina |
| Sidesword Open 2018 | 2018 | 6 | Australia | Preston |
| Dutch Lions Cub #1 2018 | 2018 | 6 | Netherlands | Nieuwegein |
| HEMAC Hemathlon 2018 | 2018 | 6 | Greece | Athens |
| MUTINÆNIS – Torneo Nazionale delle Discipline HEMA  | 2018 | 6 | Italy | Modena |
| Baton Rouge Open 2018 | 2018 | 6 | United States | Baton Rouge |
| Arizona HEMA League 2018 Event 2 | 2018 | 6 | United States | Tucson |
| World Broadsword Championship 2018 | 2018 | 6 | Australia | Sydney |
| Torneo 100Tolos HEMA | 2018 | 6 | Spain | Coruña |
| Boar's Tooth 2018 | 2018 | 6 | United States | Boston |
| I Torneo Master "Memorial Achille Marozzo" 2018 | 2018 | 6 | Italy | Firenze |
| Villeneuve Hema Tournament 2018 | 2018 | 6 | France | Villeneuve-Loubet |
| Fecht Yeah 2018 | 2018 | 6 | United States | New York |
| Paris HEMA Open 2018 | 2018 | 6 | France | Paris |
| La Curée de Mélusine II | 2018 | 6 | France | Poitiers |
| Black Horns Cup 2018 | 2018 | 6 | Poland | Poznań |
| All's Faire HEMA Tournament | 2018 | 6 | United States | Olympia |
| Treffen Historischer Fechter Deutschlands 2018 | 2018 | 6 | Germany | Nordhausen |
| II Torneo del Hierro | 2018 | 6 | Spain | Santander |
| Wrathpoint 2018 | 2018 | 6 | United States | Shepherdstown |
| Swedish Championships 2018 | 2018 | 7 | Sweden | Stockholm |
| Albion Cup 2018 | 2018 | 7 | United Kingdom | Dorking |
| Lord Baltimore's Challenge | 2018 | 7 | United States | Baltimore |
| Festival of the Sword '18 | 2018 | 7 | Australia | Doncaster |
| Clash of the Towers | 2018 | 7 | Ireland | Dublin |
| QuadroHEMiA 5 | 2018 | 7 | United Kingdom | Lincoln |
| Sword Fight IV | 2018 | 7 | Australia | Gold Coast |
| Dutch Lions Cub #2 2018 | 2018 | 7 | Netherlands | Nieuwegein |
| Cornhusker State Games 2018 | 2018 | 7 | United States | Omaha |
| Combat Con 2018 | 2018 | 8 | United States | Las Vegas |
| Points North 2018 | 2018 | 8 | Canada | Ottawa |
| Helsinki Bolognese Open 2018 | 2018 | 8 | Finland | Helsinki |
| II. Bicornio HEMA Gathering | 2018 | 8 | Hungary | Debrecen |
| FightCamp 2018 | 2018 | 8 | United Kingdom | Coventry |
| 1st HERA Event | 2018 | 8 | Australia | Adelaide |
| NeCro 2018 | 2018 | 8 | Croatia | Zagreb |
| Dutch Lions Cup 2018 | 2018 | 8 | Netherlands | Utrecht |
| The Horned Crown 2018 | 2018 | 9 | Ireland | Wexford |
| Clash of Claymores | 2018 | 9 | United States | Carlisle |
| Swordplay Australia 2018 | 2018 | 9 | Australia | Brisbane |
| Battle of the Bridge 2018 | 2018 | 9 | Sweden | Örebro |
| Wessex League 2018: London Chapter | 2018 | 9 | United Kingdom | London |
| The Battle of Buffalo 2018 | 2018 | 9 | United States | Buffalo |
| Tremonia Fechtschule 2018 | 2018 | 9 | Germany | Dortmund |
| Nordschlag 2018 | 2018 | 9 | Canada | Edmonton |
| Geselle Fechten 2018 | 2018 | 9 | United States | Oklahoma City |
| Mid Atlantic Rookie Tournament: Fighty McFightface | 2018 | 9 | United States | Kutztown |
| Edgebana 2018 | 2018 | 9 | United Kingdom | Dundee |
| Duels at High Noon 2018 | 2018 | 9 | United States | Tucson |
| Five Rings Fencing Annual KC Sword Tournament 2018 | 2018 | 9 | United States | Olathe |
| Sword & Buckler Open 2018 | 2018 | 9 | Australia | Melbourne |
| Iron Gate Exhibition 2018 | 2018 | 9 | United States | Boston |
| 8. Dresdner Fechtschul | 2018 | 9 | Germany | Dresden |
| W3 2018 | 2018 | 9 | Poland | Warsaw |
| Wessex League 2018: Taunton Chapter | 2018 | 9 | United Kingdom | Taunton |
| TaurHEMAchia VI Edition | 2018 | 10 | Italy | Turin |
| Krump Pow 2018 | 2018 | 10 | United States | Appleton |
| 2º Torneo Vila de Redondela 2018 | 2018 | 10 | Spain | Redondela |
| Steel City Open 2018 | 2018 | 10 | United States | Pittsburgh |
| Autumn Ural Cup 2018 | 2018 | 10 | Russia | Ekaterinburg |
| Lone Star Open 2018 | 2018 | 10 | United States | Houston |
| 5. offenes Fechtturnier in Kassel | 2018 | 10 | Germany | Kassel |
| Salzburger Landesmeisterschaft 2018 | 2018 | 10 | Austria | Salzburg |
| Heffac 2018 | 2018 | 10 | Belgium | Antwerp |
| Pfälzer Fehde 2018 | 2018 | 10 | Germany | Neustadt an der Weinstraße |
| Prima Spada HEMA Sabre Tournament | 2018 | 10 | Australia | Brisbane |
| Johann Georg Pascha Turnier 2018 | 2018 | 10 | Germany | Leipzig |
| Falcons Cup 2018 | 2018 | 10 | Poland | Poznań |
| Tyrnhaw 2018 | 2018 | 10 | Slovakia | Trnava |
| Swiss Gathering 2018 | 2018 | 10 | Switzerland | Urtenen-Schönbühl |
| Wessex League 2018: Cardiff Chapter | 2018 | 10 | United Kingdom | Cardiff |
| Arizona HEMA League 2018 Event 3 | 2018 | 10 | United States | Phoenix |
| Tempest 2018 | 2018 | 11 | Ireland | Feakle |
| Swordfish 2018 | 2018 | 11 | Sweden | Gothenburg |
| Primer Torneo de Esgrima Historica de Santurtzi | 2018 | 11 | Spain | Santurtzi |
| SERFO 2018 | 2018 | 11 | United States | Atlanta |
| Digladior HEMA tournaj 2018 | 2018 | 11 | Czech Republic | Prague |
| Long Island Point 2018 | 2018 | 11 | United States | Uniondale |
| The 400 Years Tournament | 2018 | 11 | Australia | Melbourne |
| 1º Torneio de Esgrima Histórica de Valinhos 2018 | 2018 | 11 | Brazil | Valinhos |
| The Might 2018 | 2018 | 11 | France | Istres |
| VIII Budapest MHS Kardvívó torna | 2018 | 11 | Hungary | Budapest |
| Galway Longsword Open 2018 | 2018 | 11 | Ireland | Galway |
| LangHEMA 2018 | 2018 | 11 | Italy | Alba |
| Torneo ARA 17/11/18 | 2018 | 11 | Italy | Rome |
| Niederösterreichische Landesmeisterschaft NÖLM18 | 2018 | 11 | Austria | St. Pölten |
| Blue Box Longsword Open 2018 | 2018 | 11 | United States | Columbus |
| Winter Open Duel Fencing Championship of the Ural Federal District  | 2018 | 11 | Russia | Chelyabinsk |
| Wessex League 2018: Winchester Chapter | 2018 | 11 | United Kingdom | Winchester |
| November Fechtschule 2018 | 2018 | 11 | Australia | Canterbury |
| IFHEMA Cup 2018 | 2018 | 11 | Portugal | Lisbon |
| Swordplay Serbia 2018 | 2018 | 11 | Serbia | Belgrade |
| Tasmanian Swordplay Symposium 2018 | 2018 | 12 | Australia | Hobart |
| Pardubický meč 2018 | 2018 | 12 | Czech Republic | Pardubice |
| HVN Singlestick Charity Tournament 2018 | 2018 | 12 | Netherlands | Oegstgeest |
| Winter Golden Forests Championship 2018 | 2018 | 12 | Russia | Moscow |
| Polish Championships 2018 | 2018 | 12 | Poland | Wroclaw |
| FechtTerra 2018 | 2018 | 12 | Russia | Saint Petersburg |
| Glasgow HEMA Open 2018 | 2018 | 12 | United Kingdom | Glasgow |
| EHMS Open Doors Tournament 2018 | 2018 | 12 | Finland | Helsinki |
| Brisia 2018 – Test Gatering for Minsk 2019 | 2018 | 12 | Italy | Brescia |
| Mid Continental Hema Open – Beta #1 | 2018 | 12 | United States | Denver |