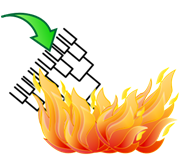 You may have heard of the rules Fechtschule New York (FNY) introduced in 2016. Whenever I bring it up, the first thing people usually say is "Isn't that the single hit thing?".
While FNY was based on single hit matches, this was not the interesting part of the rules at all!
(This article didn't lead itself to illustrations and images, so I found things somewhat related and added captions that I hope were mildly amusing.)
Rules
So, while I keep you hanging as to what the interesting part is, let's first make sure we are all familiar with the rules. Here is an abbreviated summary:
Each match is one exchange. The possible outcomes are:
| | | |
| --- | --- | --- |
| | Attacker | Defender |
| Clean Hit | +1 Point | -2 Points |
| Double Hit / Afterblow | -2 Points | -2 Points |
| Push | 0 Points | -2 Points |
A push refers to an exchange where one fighter strikes the other in a "non-vital target", while the other fighter strikes to a "vital target*" regardless of the tempo involved. The term comes from poker, where it can refer to a hand which is neither a win nor a loss.
Each pool is 8-10 fighters, something possible because each match is only one exchange.
After the first round of pools, fighters are ranked by their scores. New pools are then generated and fighters do it all over again. The scores are cumulative across all the pool sets, the goal is simply to lose as few points as possible moving through the tournament.
*Everyone involved knows that there is a huge amount of randomness involved in actual death from in-fight wounds, and if your self-worth comes from complaining about names for something like this online you probably need to re-evaluate your life choices.
You can read the rules in full, should you so desire: https://docs.google.com/document/d/1-GmCHORkZaHHYbDbXum0oNG8-YWZWQyErATthSIbedg/edit?usp=drivesdk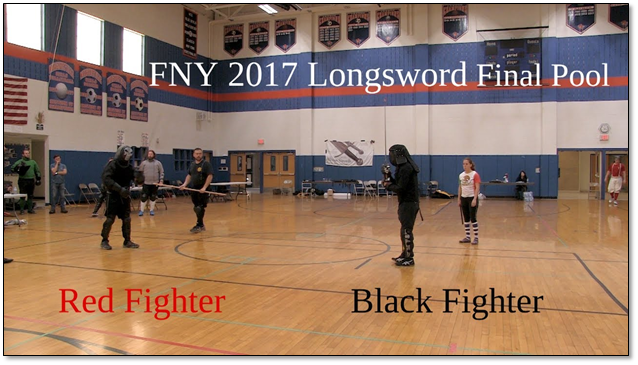 Non-Zero
So why do I say that the single exchange is uninteresting? Because the defining feature of the tournament is its non-zero-sum behavior. You might have already noticed how much I like Non-Zero-Sum Concepts in Tournament Rulesets before.
Each match can be worth a different number of points depending on the conduct of the fighters. There is a strong disincentive to being hit, no matter how it happens.
You aren't ranked simply on your ability to beat the fighter in front of you, but on your ability to get through the tournament taking as few hits as possible. Additionally, the tournament is cumulative, so your results from the previous pool carry forward to the next one.
Down With Brackets*!
* I reserve the right to copy-paste this section into a future article on the whole concept of tournament brackets ;).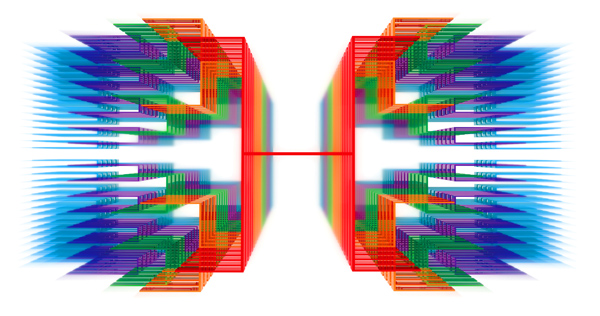 If you've read some of my other work you might have a feeling that I don't particularly like tournament elimination brackets. It's because I don't. They are a really bad solution to a lot of the problems we face trying to run sportive competitions that focus on developing martial arts skills.
Disclaimer: Before anyone gets too carried away with my growing distaste for brackets, they do have some very good logistical points going for them.
They are very fast. Tournaments are always stretched for time, and they get things done quickly.

They are widely accepted. People understand and accept how the final results are the way they are (even if they disagree with the original match results.) If you are making up some crazy ranking system people may be disgruntled because the final tournament results don't match their expectations.

They are exciting and fun for both competitors and spectators. They construct a narrative and the excitement builds as the competitors are whittled down.
In a nutshell, the problem with a bracket is that it doesn't demand a fighter fight well, it demands that they fight slightly less-bad than the other fighter.
You can have a fight with 10 double hits, and a single clean hit, and you still get a winner. A winner who is rewarded the same as a fighter who fences extremely cleanly.
Some tournaments will punish fighters with excessive double hits by having them start with a penalty in the next match. This is an example of adding non-zero-sum elements into a bracket, but you can see it only works if you make fighters have consequences that extend beyond the match currently being fought. However, this kind of incentive-punishment scheme falls apart when you get to the finals match, as there isn't anything beyond it*.
*There have been some half-joking ideas tossed around about fighters not getting any prizes if there are too many doubles in the finals match. Unfortunately that's not really fair to the sponsors who donate equipment to be used as prizes, or it probably would have been done by now.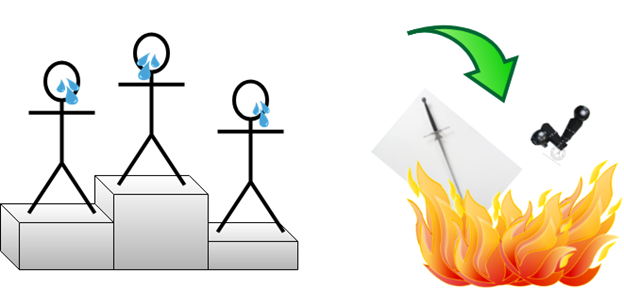 And Pool Sets Fix This Because…
Notice I'm talking about Pool Sets now, and not FNY. That's because this isn't something that is unique to FNY, though that is the competition which brought it in to the HEMA consciousness.
An important feature is that there is no finals bracket!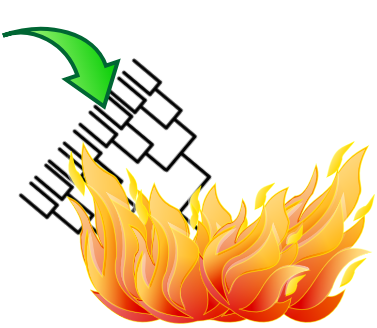 After the fighters had had enough fights to satisfy the organizers, a pool of the top 8 was created. Just like before, each person fought everyone in the pool for one exchange. The big difference is that they weren't fighting to get hit just a little less than the person in front of them — each fight becomes a challenge to navigate, in the context of keeping yourself from being hit. Not being hit is significantly more important than being hit.
Lots of people like to talk about this, but it's the first time I've seen an event truly deliver on this.
Other Formats
The Good
This non-zero-sum tournament format isn't limited to the FNY implementation. Flowerpoint has another spin on the same concept. Each match is 3 exchanges, whether they be clean hits, doubles, or afterblows. At the end of the pool set, all fighters are ranked by the number of times they were hit.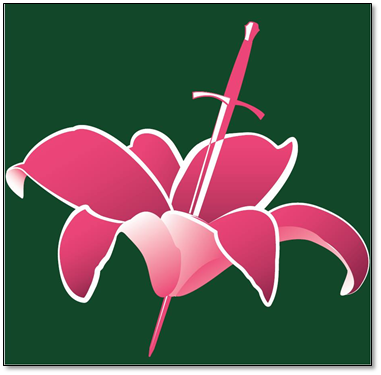 This is elegant in its simplicity. Your goal in a fight becomes not to score more points than your opponent scores, but to simply not be hit. However, you are forced into action because you know that you must do three exchanges. The only way to escape from your match is to take the fight to your opponent.
This is almost the exact same concept as FNY, but I feel that it emphasizes the "don't get hit" aspects even more. The important lesson I'm highlighting with this event is that there are many ways to make use of the concepts that FNY introduced, without having to copy it wholesale.
The Not So Good
Alternatively, you can copy the FNY format superficially, while not delivering on any of its core benefits. I was aware of a tournament which copied the single exchange format, and successive pool sets. But there was no associated penalty for double hits, the match simply ended in a tie. This sets every match back to a zero-sum exchange, which is the exact opposite of the FNY innovation. While the tournament may look superficially similar, the true intent of the rules has been stripped away.
Edit: Because my editor is complaining at me for not writing a conclusion, I'm going to paste in some of the most important quotes that summarize the article.Hopefully you were smart enough to understand them all the first time.
"While FNY was based on single hit matches, this was not the interesting part of the rules at all!"

"An important feature is that there is no finals bracket!"

"They [elimination brackets] are a really bad solution to a lot of the problems we face trying to run sportive competitions that focus on developing martial arts skills."

"The big difference is that they weren't fighting to get hit just a little less than the person in front of them — each fight becomes a challenge to navigate, in the context of keeping yourself from being hit. Not being hit is significantly more important than being hit."